Christina Hall's Surprising Home Design 'Ins' and 'Outs'
Good news farmhouse lovers, shiplap is still totally in.
According to this design duo, shiplap still has tons of charm. Whether you're using it to add texture to the ceiling of a coastal home or as an accent wall in a bedroom for a rustic touch, the wood treatment stays timeless.
Sorry curvy-sofa and arched-cabinet lovers: Christina and James are not on board with this Instagram-loving trend. They're all about classic shapes and clean lines.
"I like straight edges!" James said.
There's a reason those treasured pieces have been around for so long! Vintage furniture is usually well-made, timeless and meaningful. Whether it's a midcentury teak dresser or an antique French settee, a perfectly curated vintage piece can often add the one extra touch missing from a space.
It's no surprise Christina (the queen of neutrals) is averse to bright pops of color. Christina's response when HGTV asked about vibrant hues?
She still knows how to go bold with neutrals though. During a particularly memorable episode of Christina in the Country, she layered black materials of varying textures throughout the living room and kitchen of a Tennessee home for a striking look and cozy ambiance.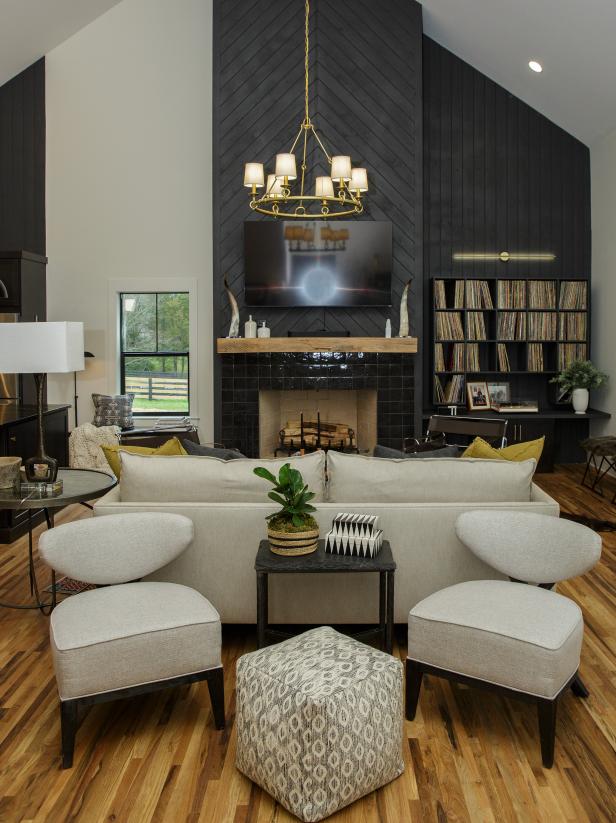 Christina's neutral-bold living room design from Season 1 of Christina in the Country.
Matt Blair
Christina's neutral-bold living room design from Season 1 of Christina in the Country.
Think imperfect concrete tile in a Spanish style home, fluted ceramic tile as a kitchen backsplash or wavy porcelain tile in a beachy bathroom. Textured tile has a lot to offer, which is why both Christina and James gave it an immediate thumbs up of approval.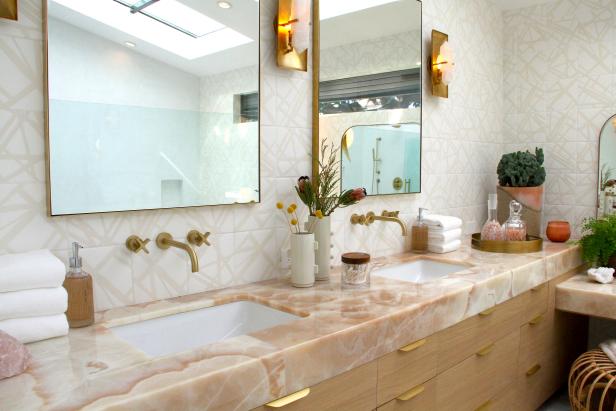 Detail of the bathroom double vanity in the newly renovated Costa Mesa, CA home, as seen on HGTV's Christina on the Coast.
If there's one thing Christina is known for other than her masterful use of neutrals, it's her love of minimalism, which might explain her reply of "Who?!" when asked about bold maximalism. Her own home in Newport Beach, California, is a careful balance of subtle texture, pared down accessories and neatly tucked-away features (like a projector screen that stores away in the ceiling).
"Yay-ish," said James and Christina in unison when asked their opinion on subway tile. "We share a brain," Christina added. HGTV's pro tip: There's a special art to making subway tile cool. Try using a non-standard size, like super skinny tiles, installing it in a chevron pattern, or picking tile with a glossy texture for boho flair.
Out: Paper Fabric Lighting
Tassels and fringe lighting are in — Christina has a multi-tier fringe chandelier in her Newport Beach living room — but paper fabric lighting is unfortunately out.
Matt Blair
Tiered chandeliers are a staple for Christina when it comes to lighting.
A place to kick off your shoes and drop your bags as soon as you walk through the door is an obvious "in." Plus, there are a million cute ways to decorate them — vintage lockers, statement wallpaper, a fun runner — the list goes on.
More Christina-Approved Designs